EPFL
The Ecole Polytechnique Fédérale de Lausanne - EPFL is Europe's most cosmopolitan technical university with students, professors and staff from over 120 nations. A dynamic environment, open to Switzerland and the world, EPFL is centered on its three missions: teaching, research, and technology transfer. EPFL works together with an extensive network of partners including other universities and institutes of technology, developing and emerging countries, secondary schools and colleges, industry and economy, political circles and the general public to bring about real impact for society. Here you can know more about our campus.
Forum Rolex (EPFL Rolex Center)
Built on the campus of EPFL, The Rolex Learning Center, is designed by the internationally acclaimed Japanese architectural practice, SANAA. It spreads over one single fluid space of 20,000 sq meters and functions as a laboratory for learning, a library with 500,000 volumes and an international cultural hub for EPFL. It is a highly innovative building with gentle slopes and terraces, undulating around a series of internal patios, with almost invisible supports for its complex curving roof. It breathes fresh alpine air feed by the nearby plains and the Lake Geneva.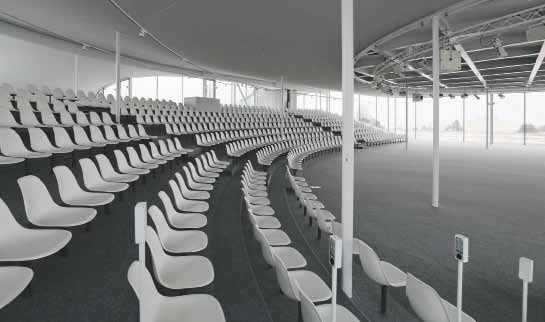 EPFL - MED Building
The new EPFL building, MED, is the home of important state of the art laboratories in robotics, including the Biorobotics laboratory (Prof. Auke J. Ijspeert), Laboratory of Intelligent Systems (Prof. Dario Floreano) and Reconfigurable Robotics Laboratory (Prof. Jamie Paik). The building, serves as large-scale experimental playground and laboratory for research scientists.